Since launching in 2004 MatchingDonors.com, our award winning 501(c)(3) nonprofit organization, has helped over 10,000 of our registered patients needing organ transplants and over 15,000 of our registered living altruistic organ donors willing to donate an organ to a patient on MatchingDonors.com.
Many patients get their transplant through MatchingDonors.com within only six months, or less, of registering on this website; instead of the 7 to 9 year wait on the government's transplant waiting list.
MatchingDonors.com has become the most successful nonprofit organization that is finding living altruistic organ donors for people needing kidney and other organ transplants. The MatchingDonors.com website can get over 1.5 million hits in a month.
In 2004, MatchingDonors.com became the first organization in the world to facilitate an organ transplant through the Internet.
Fran Nicholson (on the right) and her donor Anne Ryan (on the left) are seen here after their 02/26/08 kidney transplant surgery..
(NBC'S TODAY SHOW) See above a great story that NBC'S TODAY SHOW and Natalie Morales aired about MatchingDonors.com. The patient received his transplant within 93 days of registering on MatchingDonors.com.
(Fox News) See below a great story that Fox News aired about a patient that received his transplant within 94 days of registering on MatchingDonors.com.
TV LAND AND MATCHINGDONORS.COM RAISE AWARENESS FOR ORGAN DONATION WITH A GREAT "HOT IN CLEVELAND" EPISODE.
Press on the video below to see the episode and the Public Service Announcement Wendie Malick created for MatchingDonors.
Press here to donate to The Tom Martinez Goal Line Fund, created by Tom for MatchingDonors.com
Three weeks before his untimely death, Tom created the Tom Martinez Goal line Fund to help underprivileged patients needing organ transplants through MatchingDonors.com.
(People Magazine) This is a great article about two of our patients and their donors; Rahwa Daniel and her donor Jacob Halupka and Gail Fink and her donor Juan Uribe. This article has a surprise story about them that will make your day.
Click here to see the People Magazine article
The MatchingDonors.com team was invited to the Massachusetts State House as Distinguished Guests of Governor Deval Patrick. They brought with them Mr. Albie Sherman, one of the patients that they saved using MatchingDonors.com. Mr. Sherman is the Vice Chancellor of the University of Massachusetts Medical School, and the senior member of the Massachusetts Health Council.
The members of MatchingDonors.com were then presented three Official Citations for the lifesaving work they have done finding people organ transplants. They received a Citation from the Massachusetts State Senate by Senator Brian Joyce, a Citation from the Massachusetts House of Representatives by State Representative William Galvin, and a Citation from Governor Deval Patrick.
Then the entire MatchingDonors.com team was directed to the State Senate Chambers by Senator Joyce where at the podium the President of the Senate - Therese Murray handed the gavel to Senator Joyce who introduced them to the Senate; they then received a standing ovation from the entire Massachusetts State Senate for the lifesaving work they do.
See the MatchingDonors Movie Trailer video above. It has some great testimonials from our patients and donors.
(Chicago Sun Times) In an extraordinary sacrifice, a man donates a kidney to a Northbrook, IL. woman, then his wife serves as surrogate mother for her twins. They found each other on MatchingDonors.com.
Click here to see the Chicago Sun Times article
(60 Minutes) Why did Michelle Eather have to leave Australia to go to the United States to donate a kidney and save a dying man she found on MatchingDonors.com? 6o minutes will show you why.
(CBS News) Bionic Hero Saves Stranger's Life With Kidney. Karl Chapin has a new chapter in his interesting life story. He volunteered to give a complete stranger one of his organs. David Wade Reports.
(Fox News) The waiting list for available organs can be several years long. And that could be too late for some. FOX25's Frank Mallicoat discovered that some people are skipping the long wait by finding a donor online.

(Discovery Channel) Alex Pratt resides in Los Angeles, Calif., with his wife, and two children. He has been suffering from Kidney disease for over 20 years. In 1993, Alex had his first transplant. It lasted nine years, and in 2002 he returned to the brutal routine of dialysis. Alex has waited 4 years for his second transplant, which he would have never received if it weren't for the altruistic donor Karen Holstrom, the website that got them together-MatchingDonors.com and the paired donation program at Johns Hopkins Hospital.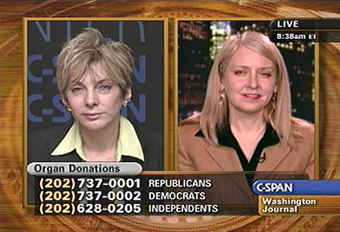 (C-SPAN) Commentator and guests talked about MatchingDonors.com and organ donations and Dr. Satel's kidney transplant from her friend Virginia Postrel. They also wrote about their experiences in the October 25, 2006, issue of USA Today. They also responded to telephone calls and electronic mail. Sally Satel spoke by video link from Denver. Virginia Postrel spoke by video link from Los Angeles.

Elliot Riley is a Navy medic. He lives in St. Louis with his wife and 2-year-old daughter. Another baby is on the way. Hannah Towner is a former math teacher and mother of three. She's very sick with lupus. Her kidneys are failing and she's running out of time. Hannah lives 800 miles from Elliot, in Virginia, complete strangers until one day last fall. While surfing, Elliot found himself on this Web site, MatchingDonors.com.
The Ultimate Gift Found Online
(CBS) MatchingDonors.com Links Organ Donors With People In Need Of Transplants. Paul Wagner did an extraordinary thing. In an act of selflessness, he gave away his left kidney to a perfect stranger he found on MatchingDonors.com. Click here to see the CBS News video
The Longest Wait
(ABCNews Nightline) "More and more Americans are turning to the internet to conduct all facets of their day to day lives. So, if they can make their own case to the public at large and find someone who empathizes with them and is willing to donate an organ, what's wrong with that?" (Ted Koppel about MatchingDonors.com)
The following quote is from a front page article written about MatchingDonors.com.
(Washington Post) "I don't think we can legislate or regulate how people get to know each other," said UNOS President Francis L. Delmonico. "Once that occurs and someone decides they want to save another person, I don't think we ought to stop that as long as they are medically suitable, are not violating the law and are fully informed."
(AARP Bulletin) "Organ Transplants Meeting and Matching Online. It shows a number of our donors and patients including a nice front page picture of one of our donors -Sandy Miller who donated a kidney to Angie Carranza.
(The New England Journal of Medicine) Interview with Dr. Robert Truog and Dr. Jeremiah Lowney on the ethics of organ donation by living donors. Dr. Truog is a professor of medical ethics and anesthesia (pediatrics) in the Department of Social Medicine at the Harvard Medical School and the Division of Critical Care Medicine at Children's Hospital Boston. Dr. Jeremiah Lowney is the medical advisor of MatchingDonors.com.
(The New York Times) "I turned to MatchingDonors.com, a Web site created last year to help link potential donors and recipients. Once a match is made, the process follows the standard path, with physicians at a transplant center determining whether to proceed with the surgery." (By SALLY SATEL, M.D.)
The clinical ethics committee at Presbyterian/St. Luke's Medical Center in Denver allowed Bob Hickey's surgery to proceed after the clinical ethics committee met and conditionally approved the arrangement."If crafted carefully, this (MatchingDonors.com) will allow them (donors) to be matched with people who need those organs," says Reginald Washington, chairman of the ethics committee. "This is another tool. If properly used, it could be a very helpful tool." USAToday
MatchingDonors has been featured in national newspapers,TV and radio coverage in both the United States and Canada. Listen a recent 2005 story from National Public Radio:
...............................................................................
It is absolutely against the law to have any financial benefit from organ donation.
There is a potential for complications for this type of surgery. Anyone interested in being an organ donor should contact his or her physician prior to matching.
...............................................................................
MatchingDonors is a 501(c)3 nonprofit organization supported by patient memberships, advertisements and donations. If you wish to donate please call us at 781-821-2204.
MatchingDonors.com wants to increase the number of life-saving organ transplants. If you have ever considered becoming a living organ donor or you are someone in need of an organ transplant, MatchingDonors.com wants you to get together!
MatchingDonors.com is a venue where patients and potential donors can meet and communicate, and hopefully expedite a donor agreeing to give a patient a much needed organ.